MAIA
Traditional AI project are time-consuming and requires heavy labor. A professional AI tech team is required. How to comply with medical regulations, to maintain data privacy, to evaluate model accuracy and to apply in clinic use are considerations that hinders the progress of an medical AI project.
MAIA (Medical AI Aggregator) allows operators to simply input data and label with a few clicks, then an AI prediction model will be generated after software automatic training process. MAIA is a game changer for medical AI development.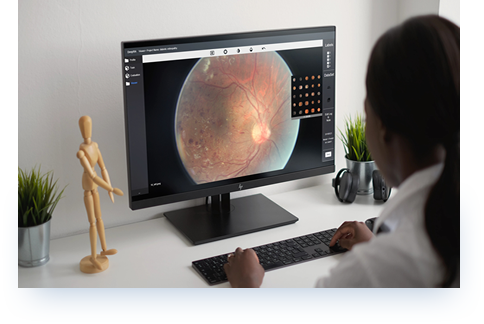 Medical AI Aggregator
MAIA is an Auto-Deep Learning (Auto DL) software. Operators can simply input hundreds and thousands of images and labels into MAIA, after automatically training process, MAIA will then output your specialized prediction model. Our Auto DL technology is based on transfer learning and hyper-parameter tuning technology.
SOFTWARE fEATUREs
MAIA AutoDL (Automatic Deep Learning) software empowers physicians to build up their own prediction model in a short period of time without coding skills.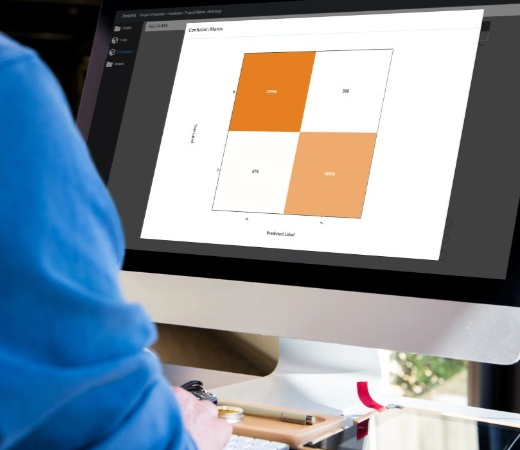 Automatic Training Process
Operators need only to imput data in a few clicks and initiate software automatic training to generate their specialized prediction model.
Types of Prediction Model
Applicable to Classification, Regression and Grade types of data analyses.
Model Evaluation
Statistic indicators such as Confusion Matrix, AUC, ROC curve are available for review.
Supports Graphic Data
Types of data are not limited. Successful cases include X-ray、 CT、 MRI、SPECT、 Fundus imaging and others. PNG, JPG, JPEG, Tiff, DICOM and other file formats are supported.
Data Processing
MAIA is powered by Auto Deep-learning engine (Auto DL). Transfer Learning technology allows a limited amount of data to generate precise prediction model after software automatic training process.
Explain AI Function
Explain AI (heat map) button allows researchers to check on what features of the graphic data the algorithm focuses on. Prediction results can be output and saved in document format.
Customzied to meet your needs
MAIA cloud version
Our team can assist you to set up your own private cloud to run MAIA.
Currently we partner with Microsoft to co-market MAIA on Azure cloud.
Our user interface is also applicable on other clouds.
Software Interface
Statistic indicators such as Confusion Matrix, AUC, ROC curve and others can be displayed for model evaluation.
Can input new data for testing and continue to add to traning data to improve model prediction ability.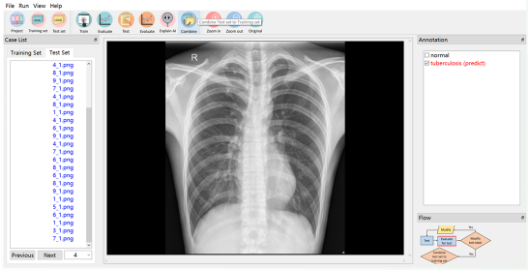 Viewer
Can zoom in the image and modify label easily.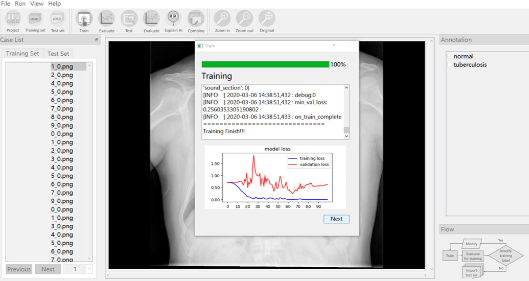 Automatic Training
Coding skills are not required for operators to harness MAIA. Sinply input data and initiate training with one click.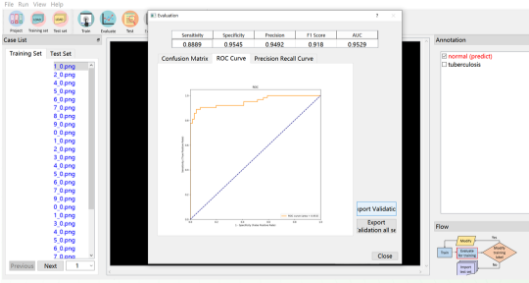 Model Evaluation
A list of statistic indications can be displayed for every model trained,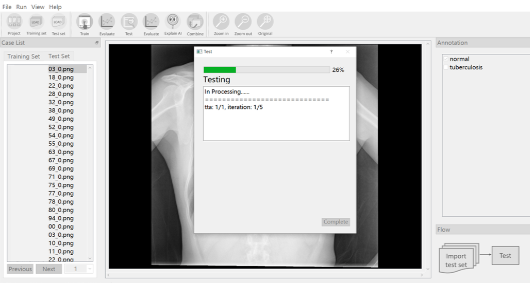 Model Testing
Can input new data to test the model.
Past Projects
Diabetic Retinopathy Detection
Bone Density Detection
Anterior Cruciate Ligament Tear Detection
Lung Nodule Detection

Published Papers
Glaucoma Detection
Vocal Cord Lesion Detection
Kidney Failure Following Cardiac Surgery Projection


On-going Projects
Epilepsy Detection
Facial Feature Length Detection
Chronical Kidney Disease Prevention Platform
Sleep Management Platform
Smart Hospital Solution
MUEN AWARDS
Taiwan Ministry of Education


1st Place in Protein-protein interactions extraction from published paper contest
(Natural Langauge Processing technology)



Grand challange-ichallenge


6th place in Age-realted Macular Degeneration Detection
(1st in Taiwan)



Muen team developed Auto-Deep learning technology that has accumulated 1 Gold, 5 Silver and 6 Bronze medals in Kaggle competition.
1 Gold
Santander Customer Transaction Prediction
5 Silver
University of Liverpool - Ion Switching
IEEE-CIS Fraud Detection
Tweet Sentiment Extraction
Google Research Football with Manchester City F.C.
Generative Dog Images
6 Bronze
Recursion Cellular Image Classification
APTOS 2019 Blindness Detection
Google QUEST Q&A Labeling
NFL 1st and Future - Impact Detection
Quora Insincere Questions Classification
Jigsaw Unintended Bias in Toxicity Classification